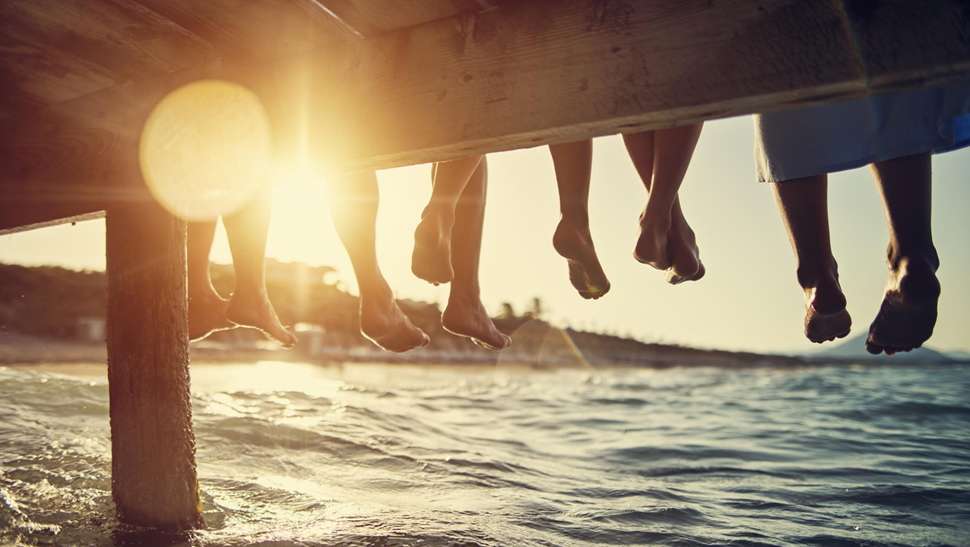 1. Moisturise
During the summer months it is very common for skin to become dry and cracked, especially at the heels. This can become very painful and in extreme cases may lead to ulcers or infections.  It is good practice to apply moisturiser to your feet daily.  Moisturisers that have a urea base are especially effective at preventing dry cracked skin.  When applying creams, avoid the toes, moisturiser in this area can lead to infections of the skin and nail.
2. SPF
Remember on those hot days to apply SPF to your whole body including your feet.  Sunburn on your feet can be very debilitating, the inflamed skin can make it difficult to wear footwear, which can have a negative impact on your gait.
3. Dry between your toes
After bathing or swimming remember to dry thoroughly between your toes.  Fungus thrives in damp warm environments.
4. Don't leave nail polish on for extended periods of time
Try to remove nail polish within 2 days of applying it.  Nail polish weakens the nail and creates an environment for infections to manifest.  Avoid applying nail polish after a shower, as your nails are porous, the moisture can get locked in and increase the risk of a nail infection developing.
5. Avoid being barefoot
Avoid being barefoot in public areas, public pools or changing rooms.  Verrcuae are often picked up in public areas where people are barefoot.  Also, local parks and beaches may have hidden dangers such as broken glass, thorns etc.
6. Wear supportive footwear
As the temperature rises people often swap their supportive footwear for loose fitting sandals, flip flops and slip on shoes.  These shoes are fine to wear when walking a short distance but for long walks it is advisable to switch back into a supportive shoe.  A supportive shoe is one that has a sturdy heel counter and has fastening on the top of the foot.  This gives your ankle stability when walking in uneven terrain and secures your foot in the shoe that will help to avoid unexpected injuries.
When to see a podiatrist
● If you develop heel fissures.  These are deep cracks in the heel that are painful.
● If you notice any unusual lesion or discoloration to the skin of your feet.
● If your nail becomes painful and begins to throb.
● If you notice discolouration to your nails or they begin to crumble.
● Burning or numbness to your legs and feet.
● Painful areas to your foot or leg that affect your ability to walk.
If you are concerned about your foot, don't ignore it.
Book a consultation with an experienced podiatrist at Bishopstown Podiatry Clinic today by phone or online.
Click to make an appointment by phone: 021-4867629
Click to make an online appointment